In recent weeks we have received more statements of support and lots of donations from various individuals, companies and governments.
Surprising donation from Jacqueline van Maarsen
Very recently we were pleasantly surprised when writer Jacqueline van Maarsen, a childhood friend of Anne Frank, generously donated 50,000 euros to the Names Memorial.
Donation received from De Jong Groep in Amsterdam
Some time before that, we received a generous donation from De Jong Groep in Amsterdam, a grand gesture that we were extremely happy to receive.
KNMG adopts names of Jewish doctors
The Royal Dutch Medical Association (KNMG) is donating 14,000 euros towards the cost of engraving the names of doctors on the Holocaust Names Memorial. These are the names of around 240 Jewish doctors from the Netherlands who died from persecution during World War II.
Widespread support
In addition, there are the individual adoptions by private individuals, and discussions with representatives of the Dutch business community.
More and more Dutch local governments support the Names Memorial
It is worth noting here that more and more Dutch local governments are backing the Names Memorial. Various local governments asked us to investigate which Jewish residents from their particular areas were victims of the Holocaust. They then decided to adopt those names. Amstelveen, Beverwijk, Diemen, Uden, Uitgeest and Zeist have all recently taken that decision. Y
ou can also encourage your local government to adopt names. They can always contact the Auschwitz Committee by telephone or email to find out more.
Dutch government grants sum of 2.3 million euros
First of all, there was the good news that the Dutch government has allocated 2.3 million euros to facilitate construction of the national Holocaust Names Memorial. That has laid a really solid foundation for our initiative.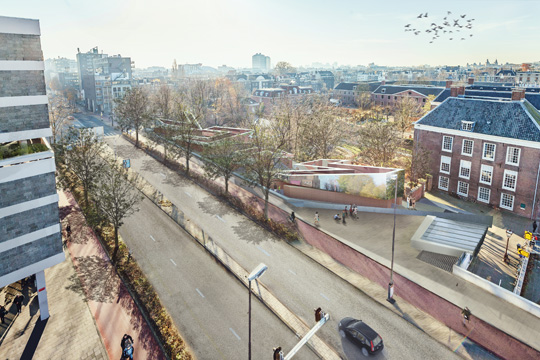 Government Architect Floris Alkemade supports HNM
We are also extremely pleased to receive the support of Government Architect Floris Alkemade. In a letter to the Netherlands Auschwitz Committee he writes: 'I am of the view that this remarkable memorial is particularly important to our historical awareness in the Netherlands. The design is striking in appearance. The idea of making all names visible and engraving each one in stone makes this design a powerful visual structure.'
'This memorial will be a valuable cultural and historical asset to the Netherlands. With this Names Monument, the 102,000 Dutch victims of the Holocaust never given a proper burial will be commemorated in a dignified manner. The design of the Holocaust Names Memorial therefore deserves my continued support and commitment.'
Back to Overview